Pope Francis on Saturday made his first trip since the Vatican's coronavirus lockdown, though it was a solitary affair for the crowd-loving Argentine due to pandemic precautions.
Francis visited the central Italian town of Assisi, the birthplace of his namesake saint, where he signed his new encyclical – a document laying out the pope's views on key issues – called "Fratelli tutti" on the importance of fraternity and social friendship, particularly during the pandemic.
The pope's last trip was to the southern Italian port city of Bari on 23 February for a meeting with Mediterranean bishops, AFP reports.
As the virus began to spread around the world earlier in the year, Francis instead reached out through a live-streamed mass, performed alone on Saint Peter's Square.
"Thick darkness has gathered over our squares, our streets and our cities," he said in the historic March address, describing the coronavirus "tempest" as having put everyone "in the same boat".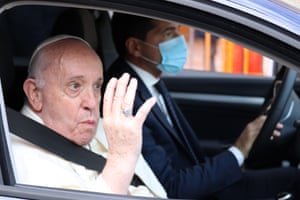 Pope Francis waves from the seat of a car as he leaves the lower Basilica of San Francesco, in Assisi, Italy, on 3 October 2020. Photograph: Gianluigi Basilietti/EPA